Embody Love Movement Facilitator Training
Our mission is to resource self-identifying girls and women to reclaim beauty on their terms by building self-approval and cultivating compassion for themselvs and others. If you feel called to our mission and vision, we encourage you to become a leader in this revolution by participating in our 2-Part Facilitator Training. During Part 1 of the certification, the 15-hour weekend training, is led by one of our Certified Facilitator-Trainers (CF-Ts), who will provide guidance and instruction on how to facilitate our inspirational programs and walk you through the process of delivering these workshops in your own communities. I've selected and trained each of these faculty members, and each are dynamic and compassionate facilitators who will provide feedback to each trainee and leave you feeling inspired to create change in your community. This weekend training course is for any self-empowered woman who feels inspired to offer our curriculum to schools, camps, community centers, yoga studios, and other non-profit organizations.
After your weekend long training, part 2 of certification is an online 4-hour downloadable training with me. I teach you about holding your body with reverence, the psychodynamics of group facilitation, social justice, and social entrepreneuriship.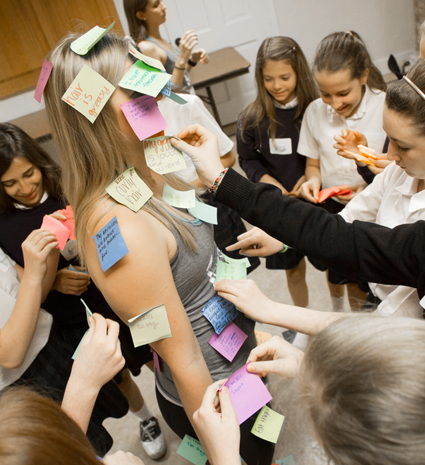 Our Workshops Include
Love In, Shine Out and Embody Love Camp for 7-11 year olds
Embody Love in Action for 12-18 year olds
Embody Love Workshop for adult women, ages 19-100
How Facilitators Make a Difference:
This training provides participants with the curriculum and skills necessary to facilitate our transformative workshops and to resource self-identifying girls and women who participate in our programs to:
♥ Redefine what beauty means for themselves and others
♥ Change the conversation from criticism and comparison to kindness and compassion
♥ Reclaim self-approval and self-care
♥ Contribute their voice, passion, and talent to the world
For more information and registration dates, please see the Embody Love Movement site.