Embody Love Movement Facilitator Training
We want our message and our LOVE to spread. And we know that LOVE grows stronger when it grows in numbers. If you feel called to our mission and vision, we encourage you to become a leader in this revolution by participating in our 2-Part Facilitator Training. During Part 1 of the certification, the 15-hour weekend training, is led by one of our Certified Facilitator-Trainers (CF-Ts), who will provide guidance and instruction on how to facilitate our inspirational programs and walk you through the process of delivering these workshops in your own space. Our CF-Ts are dynamic and compassionate facilitators who will provide feedback to each trainee and leave you feeling inspired to create change in your community. This weekend training course is for any self-empowered woman who feels inspired to offer our curriculum to schools, camps, community centers, yoga studios, and other non-profit organizations. You will be trained by Embody Love Movement Founder, Dr. Melody Moore, during Part 2 of the certification. The training takes places in four 1-hour segments of an online training.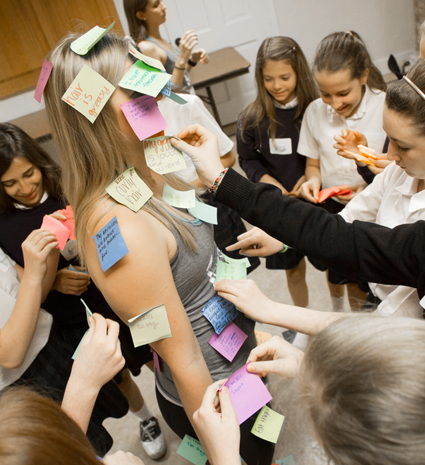 Our Workshops Include
Love In, Shine Out and Embody Love Camp for 7-11 year olds
Inner Beauty Shop and Embody Love in Action for 12-18 year olds
Embody Love Workshop for adult women, ages 19-100
What is a Facilitator?
Facilitators are women who lovingly share Embody Love Movement's revolutionary programs in studios, private practices, schools, camps, community centers and other non-profit organizations. The workshops that they facilitate focus on emotional expression, exposing media myths, changing the conversation from criticism to kindness, and recognizing self-worth and purpose.
How Facilitators Make a Difference:
This training provides participants with the curriculum and skills necessary to facilitate our transformative workshops and to inspire girls and women who participate in our programs to:
♥ Value who they are internally over their external appearance
♥ Be empowered to change the conversation from criticism to kindness
♥ Stop comparing themselves to a false idea of beauty and to others
♥ Find inspiration to embrace their purpose in the world
For full information, please see the Embody Love Movement site.